Your Professional Career Starts Here!
Our Trainee Program is a bridging program for young dancers who are transitioning from student to company dancer. The Trainee Program sets young dancers up to become successful professional ballet artists under the guidance of SJDT's artistic staff.  The program prepares dancers for the daily life and expectations of a professional ballet company, refining their technique, performance, and collaboration skills.  The trainees work very closely with the company and perform in all company productions.
The San Jose Dance Theatre Trainee Program is a 1-2 year program for dancers who have graduated highschool and have trained seriously in Classical Ballet and Contemporary dance. Our Trainee Program will further develop the dancer's skill for a professional career. Dancers are selected for the Trainee Program by audition and it is strongly recommended that they first attend SJDT's Summer Intensive.
Our Trainee Program provides a comprehensive program of training and experience for emerging professional dancers. Dancers train extensively in classical ballet and contemporary dance as well as other dance disciplines.
The trainees start each day with morning class with their fellow trainees or combined with the company. They then spend the the day working alongside the company if required for rehearsals or participate in the Preprofessional program's technique classes, continuing to build on their skills.
Trainees rehearse classical and contemporary works of the company and have the opportunity to be cast in all company productions and understudy company members.
This program is best suited for young dancers who are almost ready to move into a professional career. They have the opportunity to be mentored by company members and build on their skills. Working in a company environment can be very challenging for dancers straight out of a school environment and therefore this program allows them to learn the skills necessary for company life.  
Performance Opportunities 
Performance opportunities include San Jose's 'The Nutcracker' which is celebrating its 55th year in 2020, our annual contemporary dance season and Spring Performance. Additionally, trainees may also have the opportunity to perform choreography from world-renowned choreographers across the year.
San Jose Dance Theatre performs at major events across the San Francisco Bay Area and works in collaboration with other Arts organizations to develop dance within the region. The trainees perform at many of these events and have a full year of exciting performances ahead of them.  
Frequently Asked Questions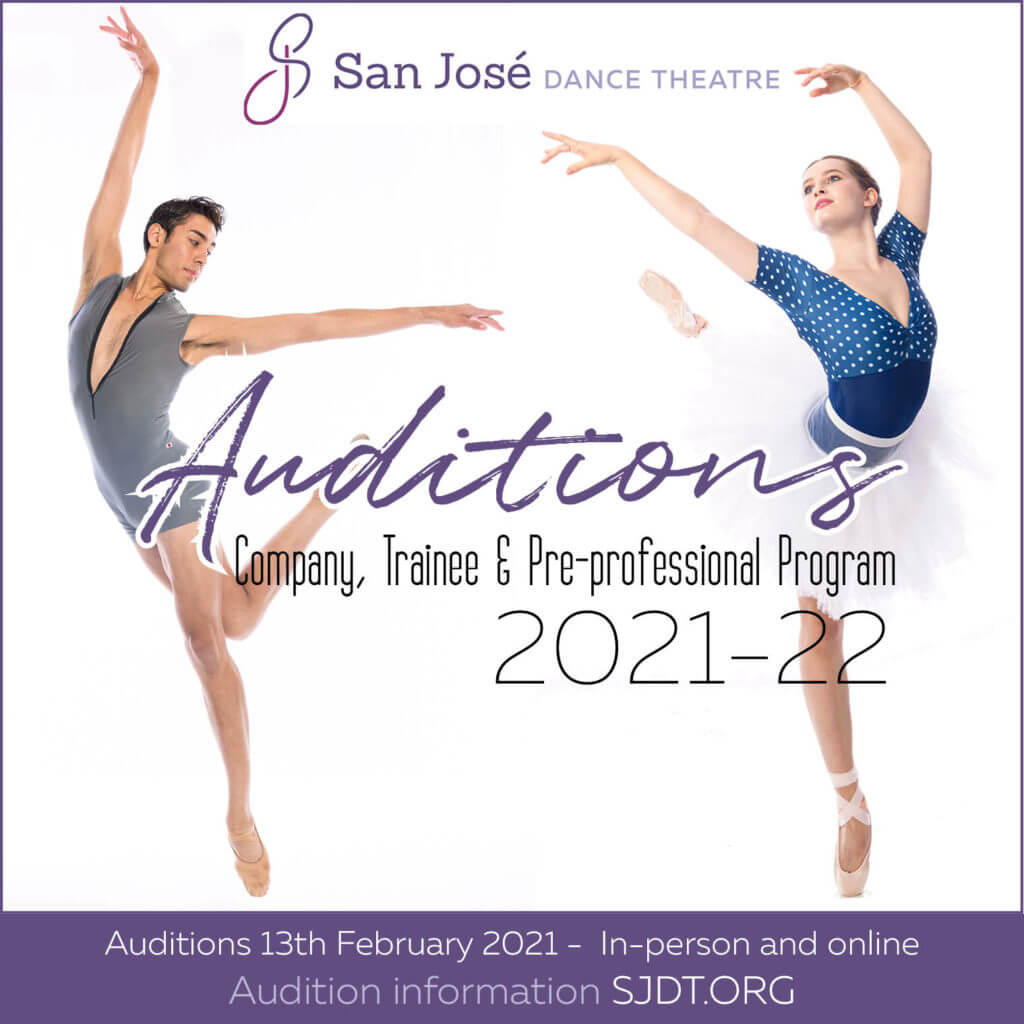 SJDT Trainee program Auditioning February 13, 2021 – Register Below
Trainee program auditions are conducted with company member auditions in Jan/Feb of each year. This information is posted on our careers page and on social media. Keep up to date on these auditions by liking our page and following us on instagram. 
Alternatively, you can request a year round audition via this online form at anytime of the year. You will be contacted to organize an audition time. 
It is highly recommended that interested emerging artists participate in the upcoming summer intensive. Register for this program via this form.