Fitness . Fun . Technique
Open Classes are for adults or any child age 12 and up or San Jose Dance Theatre Level 4 and up. No prior training is required. Open dance classes for adults, or any child age 12 and up, are designed to teach classical ballet, Pilates, and PBT in an encouraging environment. Dancers may "drop-in" to any of our Open Classes.
Cost: $17 per class, or $160 for a class card of ten.
Open Floor Barre/Pilates & Beginning Ballet 1.5 hours
This class introduces proper alignment, use of turn out, positions of the arms, legs, and head, basic movements and sequences of ballet from the barre to center work.
Students are also taught how to safely and properly stretch as well as floor barre and Pilates exercises to improve their strength, flexibility, and dancing.
More advanced dancers are welcome to join us to further clean their ballet technique, or to get back into shape after a break, or to take the class on pointe shoes.
Open Intermediate Ballet 1.5
Ongoing training for students with previous ballet experience. This class continues to emphasize proper alignment, use of turn out, and correct and safe ballet technique in a progression toward advanced ballet.
Use of "epaulement" (the head and arms working together), musicality, and artistry are encouraged in all dancers along with progressing barre and center work. Semi-professional and professional dancers sometimes grace our class and are welcome.
Open Class Repertory 1 hour
Students have a choice of taking this class on pointe or in flat shoes. Exercises to strengthen and improve the aesthetic line of the foot for ballet will be given via Pilates and floor barre exercises, as well as work at the ballet barre and center.
Students will also have an opportunity to learn solo variations and corps de ballet (group work) from classical ballets.
It is advised that students take at least 2 weekly ballet classes from an instructor in addition to this class.
Adult Dance Studio Online Classes
Thursday 6:00-7:30pm Open Ballet Class ONLINE with Holly
Sun. 10:00-11:30am Open Ballet Class ONLINE with Holly
Please ensure you have your cameras on and write your first and last name when logging on.
For more information, Zoom ID's and to book in for a class contact the adult dance studio at [email protected] or call 408-286-9905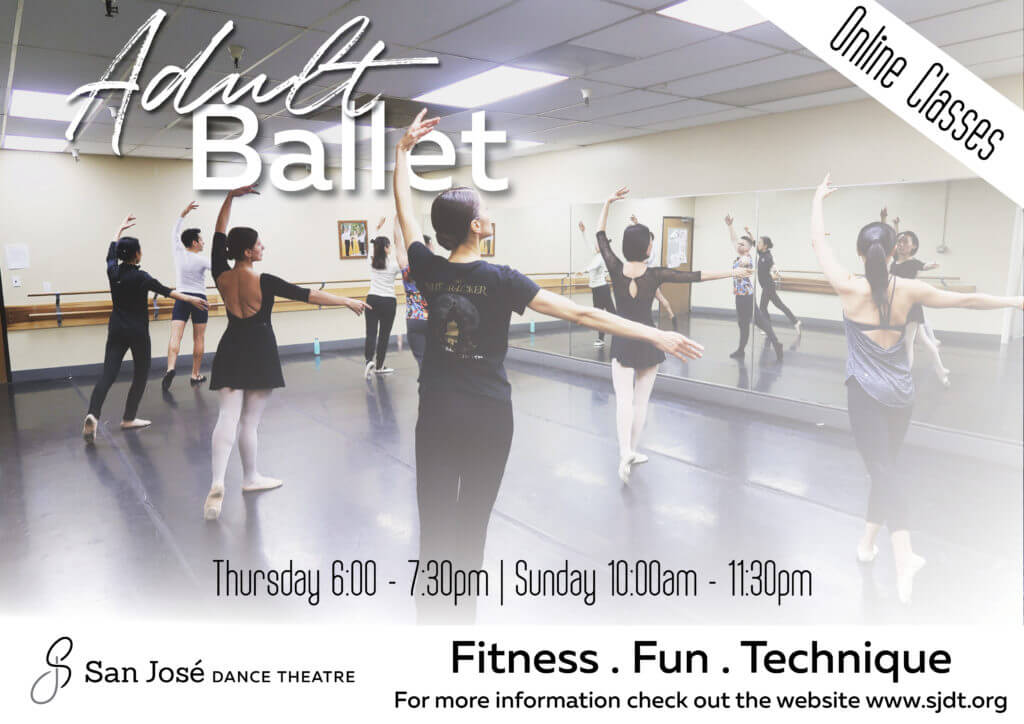 Adult Dance Studio Schedule 
Choose the day and your level (Type) to view only your classes for the week. To view the entire week leave 'Day' in the selection.