Full Time Dance Training for Your Professional Career
Do you want a professional career in dance? San Jose Dance Theatre's PPP course can set you up to achieve your dance dreams. 
The Pre-Professional Program is a year-round program open to dancers ages 18-21 by audition only and offers intensive study in ballet, pointe, male and female variations, pas de deux, men's technique, modern, contemporary and jazz. Our goal is to provide a transitional experience from the academic training setting to the world of professional dance.  
Students have the opportunity to work and perform with the San Jose Dance Theatre company and are considered for future employment within The San Jose Dance Theatre Trainee program and Company.
Our ultimate goal is to increase the artistic diversity and versatility of our dancers, increasing their chances of a professional career with a variety of companies. 
How Do We Prepare Students For The Professional World?
Students receive a dynamic training curriculum that incorporates a variety of dance styles in class, rehearsals, and performances; the opportunity to learn and perform San Jose Dance Theatre repertoire; Access to work alongside professional company dancers and artistic staff; Professional support from faculty, resume, video and photo development sessions and letters of reference. 
Pre-Professional Technique
Ballet, Contemporary, Modern, Repertory Class, Pointe, Pas de Deux, Men's/Women's Variations and Corp de Ballet, Acting, Stage craft and artistry.
Other classes include
Pilates, Floor Barre, Progressive Ballet Technique, Conditioning and Cross Training
Workshops
Throughout the year SJDT invites internationally renowned tutors to support the training of the dancers. These tutors specialize in classical and contemporary dance training for professional level dancers. 
Performance Opportunities 
Pre-Professional dancers are required to participate in all company productions. The PPP students have the privilege of working with the Artistic Director and guest choreographers. 
Dancers may also be required to support community events and activities and perform at local festivals. 
Frequently Asked Questions
Auditioning & Program Eligiability
SJDT Pre-Professional Program Auditioning February 13, 2021 – Register Below
Dancers may audition for the pre-professional program during our Jan/Feb company and trainee auditions and by attending our summer school program. It is highly recommend those interested in the program attend the full summer intensive program allowing artistic staff to evaluate positions. 
Eligibility Criteria 
Strong training background, which displays mastery in classical dance.
Natural physical attributes: flexibility, coordination, display proper line of the leg, muscle strength, stamina, jump, turn-out
Musicality
Focus, level of discipline, ability to learn quickly
Commitment level: desire, drive, passion for the art form, attendance record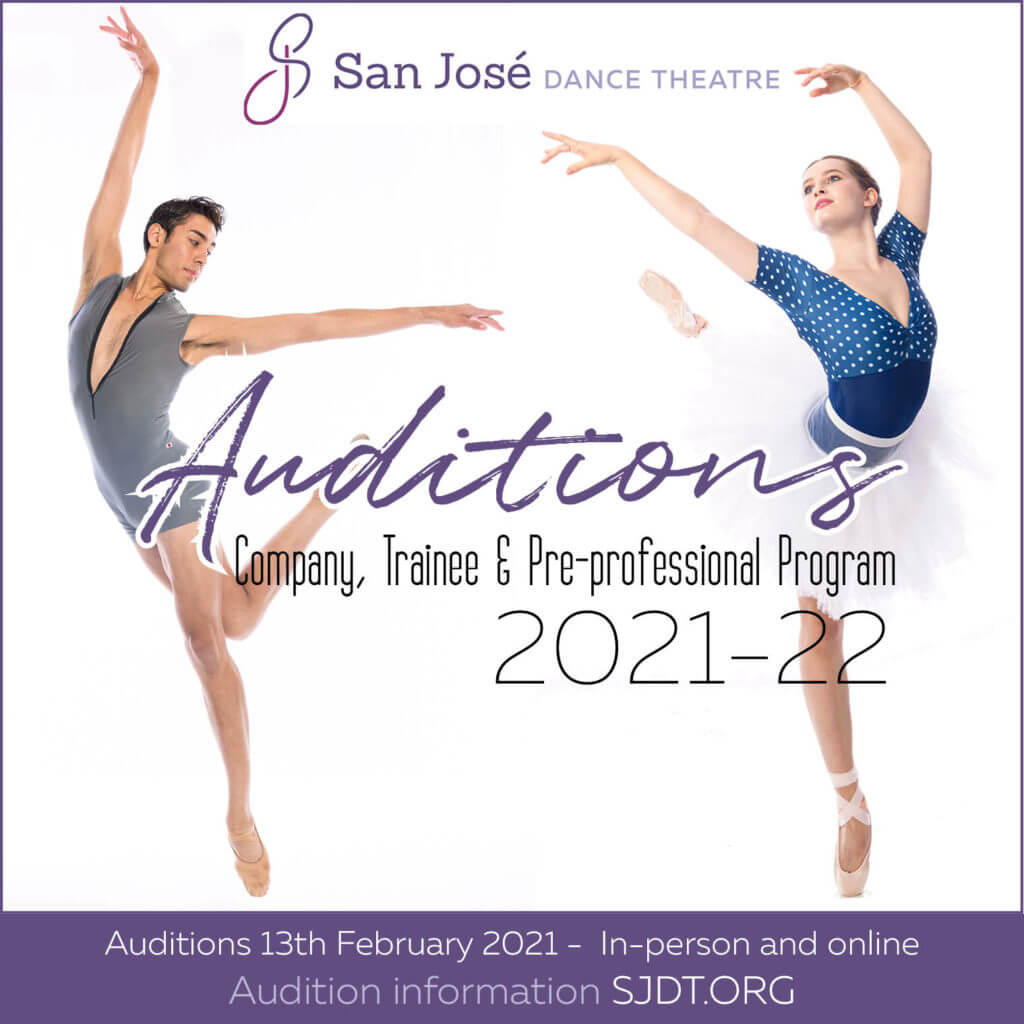 Everything You Need to Know