Message from the Artistic Director
I am Linda Hurkmans, the Artistic Director, a former professional ballet dancer and an experienced ballet teacher and choreographer. I hold a bachelor's degree, a graduate degree, and full Pilates certifications. I place the well being of the dancers as well as their excellent training as priorities in our school.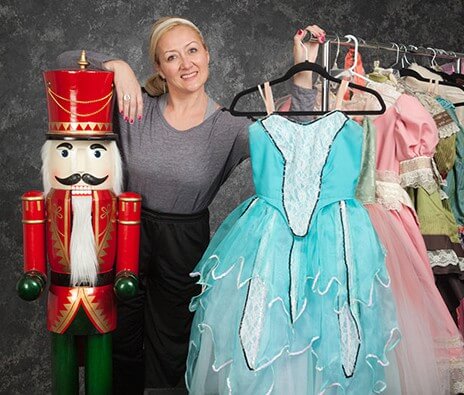 I trained in a small Russian Vaganova based school in Mountain View under the direction of Connie Schwartze and was mentored by Larisa Sklyanskaya, Natasha Papina, Benjamin Harkarvy, and Conrad Ludlow. Like many youth in the San Francisco Bay Area, I came to San Jose to participate in the beautiful and magical Nutcracker and Spring Performances of San Jose Dance Theatre. From the age of 10-16, I had the pleasure of working with the founders, Paul Curtis and Shawn Stuart, who instilled upon me a strong work ethic, professionalism and a love of the art form of classical ballet.
I welcome you to go to our faculty page to read about where I, and our wonderful faculty, have studied dance, performed and have taught. As the Artistic Director, it is my pleasure to pass on the legacy of San Jose Dance Theatre, founded in 1965, to the next generation. I set a tone of professionalism, high standards and a family friendly atmosphere. I realize that students have different talents and different goals concerning their dancing. I honor all of them and want to encourage their love of dance. My motto is "excellence in dance training in a nurturing environment." Classical ballet is the main focus but students also receive classes in Contemporary Dance, Conditioning (a combination of Pilates, Yoga, strengthening and stretching important for the dancer), Pointe, Repertory, Pas de Deux and Ballet Education (including Ballet History, Ballet Terms, and Injury Prevention).
We have many classes for youth and adults, performing opportunities and much appreciated donation opportunities.
Why Choose San Jose Dance Theatre?
Our ballet classes are based on the Vaganova methodology.
We offer professional quality performance opportunities and have recently performed at Montalvo Arts Center, SjDANCE Co. Festival for National Dance Week, The California Theatre, Foothill College Smithwick Theatre, and the 2600 seat San Jose Center for Performing Arts for our annual production of The Nutcracker.
We ensure high caliber teachers, many of whom have extensive professional experience, and pass on proper training to our students.
We offer Competition opportunities (Youth America Grand Prix, etc) for interested students.
We have high quality facilities, including three studios equipped with raised, sprung wood floors, and Marley dance surfaces.
Parents are able to watch classes through observation windows.
Boys dance too! We have boys in all of our classes, beginning through advanced, as well as Pas De Deux classes and partnering opportunities in performances.
If you have a love of dance, I hope that you will consider San Jose Dance Theatre.
Sincerely,
Linda Hurkmans, M.A.