Enjoy the return of live performance arts!
San Jose Movement Festival is an exciting new FREE EVENT on the 3rd of October at St James Park from 2 – 6 pm. Enjoy this OUTDOOR experience featuring professional dance performances, the result of a partnership with the City of San Jose's Abierto program and Filco Events. This will be the First Annual San Jose Movement Festival, part of the Sunday in the Park with Arts program.
This year we welcome very special guests – Ballet22, Fermata Ballet Collective, sjDanceCo, Abhinaya Dance Company, Cambrian Symphony, and the San Jose Dance Theatre Company – performing a variety of exciting new works for an enjoyable afternoon of entertainment.
San Jose Dance Theatre initiated the movement festival to ignite collaboration and community engagement in dance and movement in this exciting new program. With the ambition of expanding in the coming years, this festival will provide new opportunities for emerging dancers and movement companies and support a greater appreciation for movement arts in San Jose.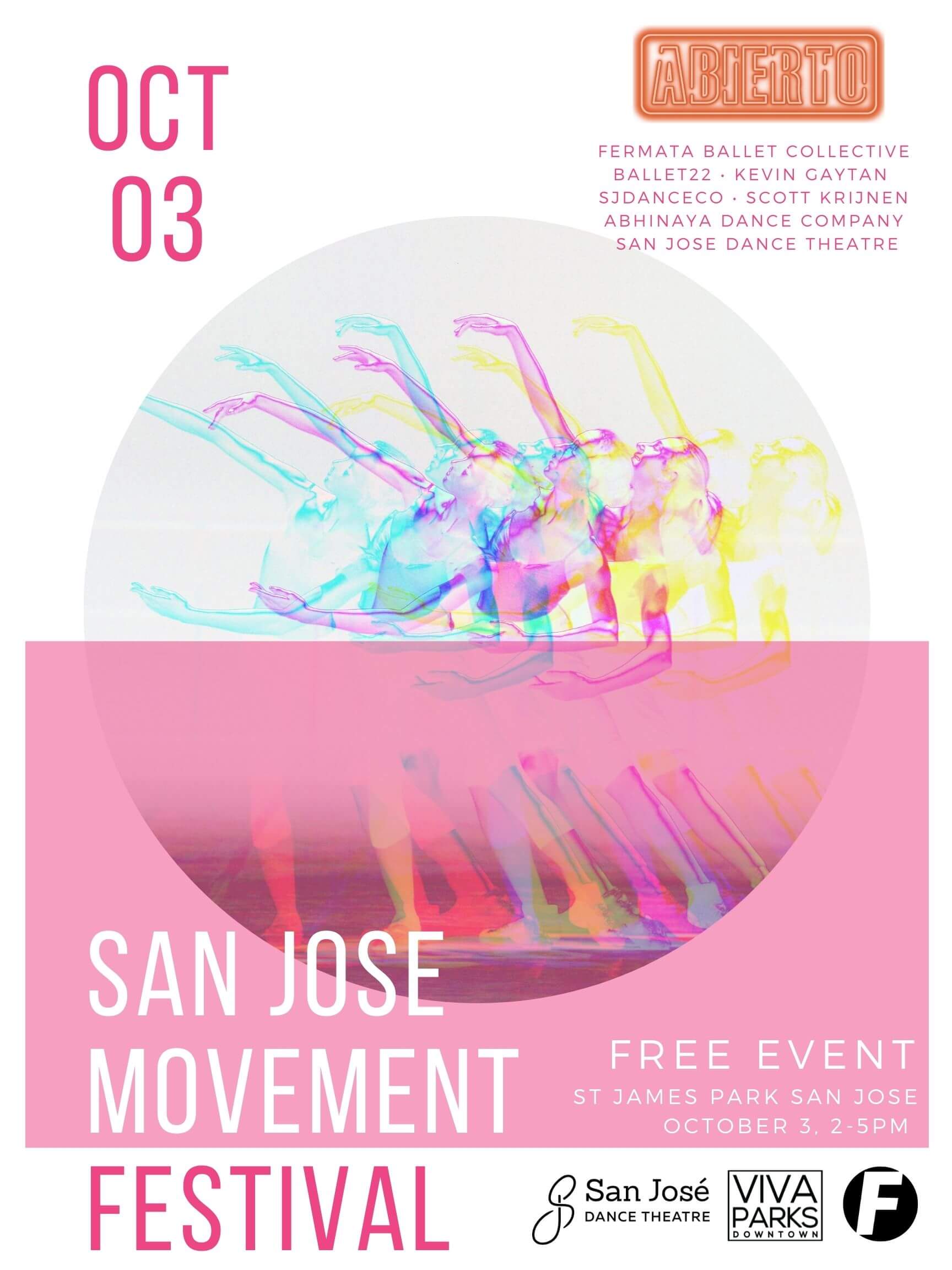 Festival Program  
October 3, 2021 – St James Park, Downtown San Jose
2:00 PM
Welcome
 
2:15 PM
Group 1
Ballet 22 – His Romeo
2:30 PM
Group 2
SJDT & Cambrian Symphony Collaboration – Bach
2:45 PM
Group 3
sjDanceco – Kevin Gaytan – Earthsong
2:55 PM
Group 4
Fermata Ballet Collective – Sunday Sweet
3:10 PM
Group 5
Fermata Ballet Collective – Journey & Moi Pour Moi
3:30 PM
Group 6
SJDT – Unprecedented & Conte A Todas
3:45 PM
Group 7
SJDT Students – Nutcracker Excerpt
4:00 PM
Break
 
4:10 PM
Group 8
SJDT Company – Classical Excerpts
4:25 PM
Group 9
Fermata Dance Collective – Wanna Bet?
4:40 PM
Group 10
Abhinaya Dance Company
4:55 PM
Group 11
SJDT – Intensity 
5:05 PM
Thank you 
Ballet22
Founded in 2020 by Roberto Vega Ortiz and Theresa Knudson, Ballet22 exists to push the boundaries of what is possible in ballet by focusing on producing and presenting works, ranging from classical to contemporary ballet, that break gender normative traditions. The company is guided by values of inclusivity of body type, gender identity, and race.
The creation of Ballet22 was inspired by a lack of representation and opportunities in the ballet field for men, mxn, transgender, and non binary artists to perform professionally "en pointe". While there are opportunities to perform in a drag-comedy context, Ballet22 seeks to present a range of work beyond these confines. Ballet22 is dedicated to commissioning new works that give representation to mxn dancers en pointe, as well as works that amplify queer voices. In addition, the company aims to create positive change to ballet culture by providing a respectful, safe place to work with equitable wages for artists.
Fermata Ballet Collective
Fermata Ballet Collective (FBC) was founded by seven dancers in June 2020 during the COVID-19 pandemic as a safe place to create art and stability in our community while the world around us remains in unrest. During this pause in regular arts programming, FBC acts as a refuge for dancers who have found their careers and projects on hold due to the pandemic, as well as opportunities to explore dance art in a respectful and safe manner with a focus on inclusivity and social justice.
FBC is determined to cultivate a collaborative approach to the creative process, valuing the experience of each individual without judgment. Our goal is to support artists as they aim to create progressive content with respect, adaptability and responsibility. Projects may be created and rehearsed to a sense of completion, left to incubate, or let go, based on the dance artist's vision and intention.
Genuine and resilient dancers who are committed to creating a safe and professional environment are welcome into our studios. FBC seeks to work with individuals who are interested in volunteering their time to participate in project-based work, virtual performance opportunities, in-person performances, professional development, and/or classes.
FBC will not tolerate or condone discrimination against any individual regarding race, color, ethnicity, national origin, sex, gender, sexual orientation, pregnancy, appearance, religion, age, or ability.
sjDANCEco
Founded in 2003 to meet the need for contemporary dance opportunities, sjDANCEco serves both the community of San Jose residents and the community of local dance artists. We have put into place exemplary programs that enable local residents to experience top quality contemporary dance performances in San Jose. We have introduced new audiences to dance and through consistent excellence in our performance series, and strive to instill a lasting appreciation for the art form.
sjDANCEco's mission is to nurture the creative spirit of professional and emerging dance artists and to inspire audiences to discover dance. We achieve this through groundbreaking performances, community festivals, workshops and outreach.
Abhinaya Dance Company
The Abhinaya Dance Company of San Jose was founded by its Artistic Director Mythili Kumar in 1980, to present innovative and professional quality performances of South Indian classical dance forms. Since 1986, Abhinaya has staged several full-length dance dramas choreographed by Mythili Kumar, such as Shiva – the Cosmic Dancer (1986), to Jwala – the Immortal Flame (2011), Gandhi (2012), and the recently acclaimed Arjuna (2014). Abhinaya has been awarded several grants from the National Endowment for the Arts and from state and city agencies. The company has collaborated with Kathak and modern dance companies, Japanese Taiko drummers, ShadowLight Theater, and a Balinese gamelan ensemble. The company has appeared several times in the San Francisco Ethnic Dance Festival and in several different Asian Performing Arts Festivals. Abhinaya dancers have toured India as well as several U.S. cities.
Abhinaya currently offers classes in San Jose and Monte Sereno. Over 130 students have graduated from Abhinaya with their solo debut (arangetram) performances.
The Cambrian Symphony
The Cambrian Symphony is comprised of community-minded individuals that act not only as musicians on the stage, but as doctors, lawyers, engineers, designers, research scientists and educators throughout the Bay Area. Their joy of making and sharing music is infectious and is the foundation for their contribution to the arts.
Affiliated with the San Jose Dance Theatre, the Cambrian Symphony is in its eighth year of collaboration with the Nutcracker, receiving rave reviews, and is now embarking on its sixths full season of concerts. One of the unique elements of this ensemble is its connection with arts education and its commitment to inviting students to join in side-by-side performance. We hope to cultivate the value, appreciation, and understanding of the orchestra and its connection to hundreds of years of music with all generations, current, and future.
San Jose Dance Theatre
San Jose Dance Theatre is a classical ballet performance Company and Academy, specializing in offering high-quality productions and training for the San Jose community. The company actively advocates for nationwide access to classical performances, quality community engagement opportunities, and the development of the art form regionally and across the country.
Since its inception in 1965, San Jose Dance Theatre has provided the community of San Jose and the greater San Francisco Bay Area with quality performances. These performances feature professional artists, working in collaboration with young dancers to deliver outstanding productions. We have delighted local audiences for over five decades with performances including 56 years of The Nutcracker, Peter and the Wolf, Alice in Wonderland, Sleeping Beauty, and Midsummer Night's Dream. Linda Hurkmans is the Artistic Director.
About the City of San Jose Abierto Program and Sunday in the Park with Arts https://www.sanjoseca.gov/your-government/departments/parks-recreation-neighborhood-services/your-programs/placemaking