Join our Friends of the Ballet Program Today!
Launched during our Digital Season, San Jose Dance Theatre is excited to announce its new Friends of the Ballet program featuring all-new digital content!
Supporting the ballet dancers and the whole San Jose dance community, this new program will allow you to see our dancers performing back onstage, in class, and much more from your living room. In addition to this, the program will allow you to stream all of our mainstage productions (The Nutcracker, Innovations, and Sleeping Beauty for 2020-21) straight into your home!
This exciting new program supports the professional company, and the education and continued growth of San Jose's dance industry.
NOW STREAMING DANCE SHORTS
Wow, I just watched the new Digital Dance 1 video on the streaming platform. What a beautiful compilation of works by SJDT. I love the professional dancers and the dark stage setting complemented the entire performance. To top it off, no ads, just uninterpreted beautifulness, and excellent streaming quality.
BRAVO to Linda Hurkmans and SJDT!! I just watched the 55th annual Nutcracker and I thought it was beautifully done and very innovative. I loved seeing it done outdoors and the dancers and scenery/locations were just beautiful! Well Done!!! xo
How creative and beautiful this Nutcracker was! Very much enjoyed it! It's been a while since I've seen any dancers from the studio but I did recognize Jules and Twilight, didn't see Natalie. I also enjoyed watching Taunt and Colors. A lot of good things going on at SJDT, Bravo to you all!
What You Get in The Membership
Membership Card
Subscription to "San Jose Ballet" Quarterly Magazine
Access to all of our exclusive digital content, which includes our new 3-part digital dance season, 10 episodes of 'Ballet Tips',  10 episodes of 'Fitness Through Dance', sneak peeks into the lives of dancers and the making of all of our productions, plus much more.   
Access to our Mainstage productions streamed to your living rooms (The Nutcracker, Innovations and Sleeping Beauty)
20% off show tickets
Special invite to watch class onstage once per performance season
Special invite to in-studio "meet the company day" and morning tea
Merchandise pack
Special invite to opening night functions
Access to private Facebook group
Free shipping on all online store purchases
And many more invites and special offers throughout the year!
Launching November 1, 2020 
Sign up today –  $11.99 per month!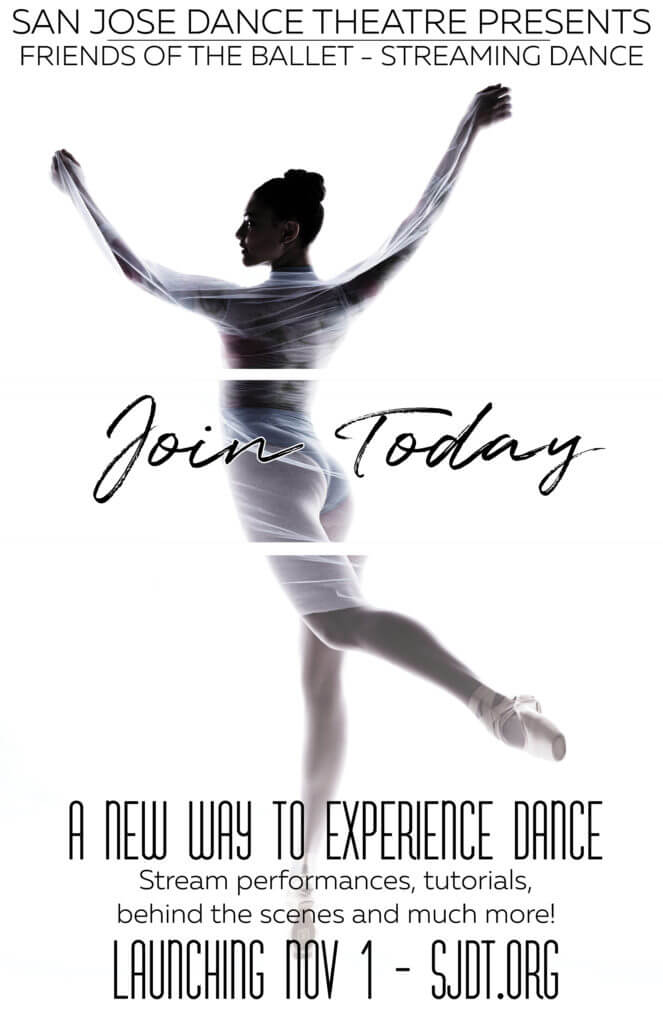 San Jose Dance Theatre is excited to present three exciting Nutcracker productions in 2020 all streamed directly into your living room. We have gone into the archives and will be streaming to our subscription platform the 30th Anniversary production filming in 1995. Additionally, available on our streaming platform will be the 54th Nutcracker filmed in 2019. Both of these productions will be available for unlimited access via our digital platform. Sign up below! In addition to this, join San Jose Dance Theatre for a one time only special event featuring excerpts of The Nutcracker filmed on location around San Jose. This 2020 special event will also be streamed into your living room on our digital platform.
SJDT Digital 'Friends of the Ballet' FAQ's